June 15th, 2015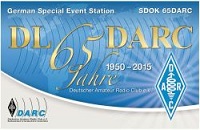 From Monday, June 22nd to Wednesday, June 24th I will be QRV during the evenings on 23 cm and 13 cm using the special event callsign DL65DARC.
Skeds (aircraft scatter, tropo) are welcome via ON4KST, Facebook or email.
Rig will be a 3 m dish with 150 W on 23 cm and 75 W on 13 cm. The QTH locator is JN49CV. SSB, CW and WSJT modes are suitable. Operation on relays is not intended.
If I find some spare time, I will be QRV on June 25th, 26th and 28th as well.
On Saturday, June 27th, you can meet me in Friedrichshafen.